The Norris Recreation Complex is still in the early planning stages. The current plans re-purpose the 45.1-acre golf course in Rutherfordton into a multi-use park for community use. Please contact Doug Barrick, the Town Manager, if you have any questions on this project.
The Golf Course Taskforce committee has been meeting since the summer of 2019 to review the golf course property and potential outcomes for the property. The Committee has worked hard to review initial thoughts of reopening the golf course and the community's desires for the property. After much public feedback, surveys, and meetings the committee after unanimous support presented the attached Master Plan for the Norris Recreation Complex to the Town Council who also approved the plan unanimously on November 3, 2020.
This complex represents the ability for the Town to provide recreation opportunities over the next century for all ages and abilities. The key piece of the new plan is the indoor recreation center and the amenities around that complex. While the proposed budget is a large price tag, the ability for the community to invest in this project will be the driving force to complete this project. This complex provides the future for recreation in our community and will be the project that improves the quality of life in Rutherfordton for the long term.
Adopted Master Plan Site Layout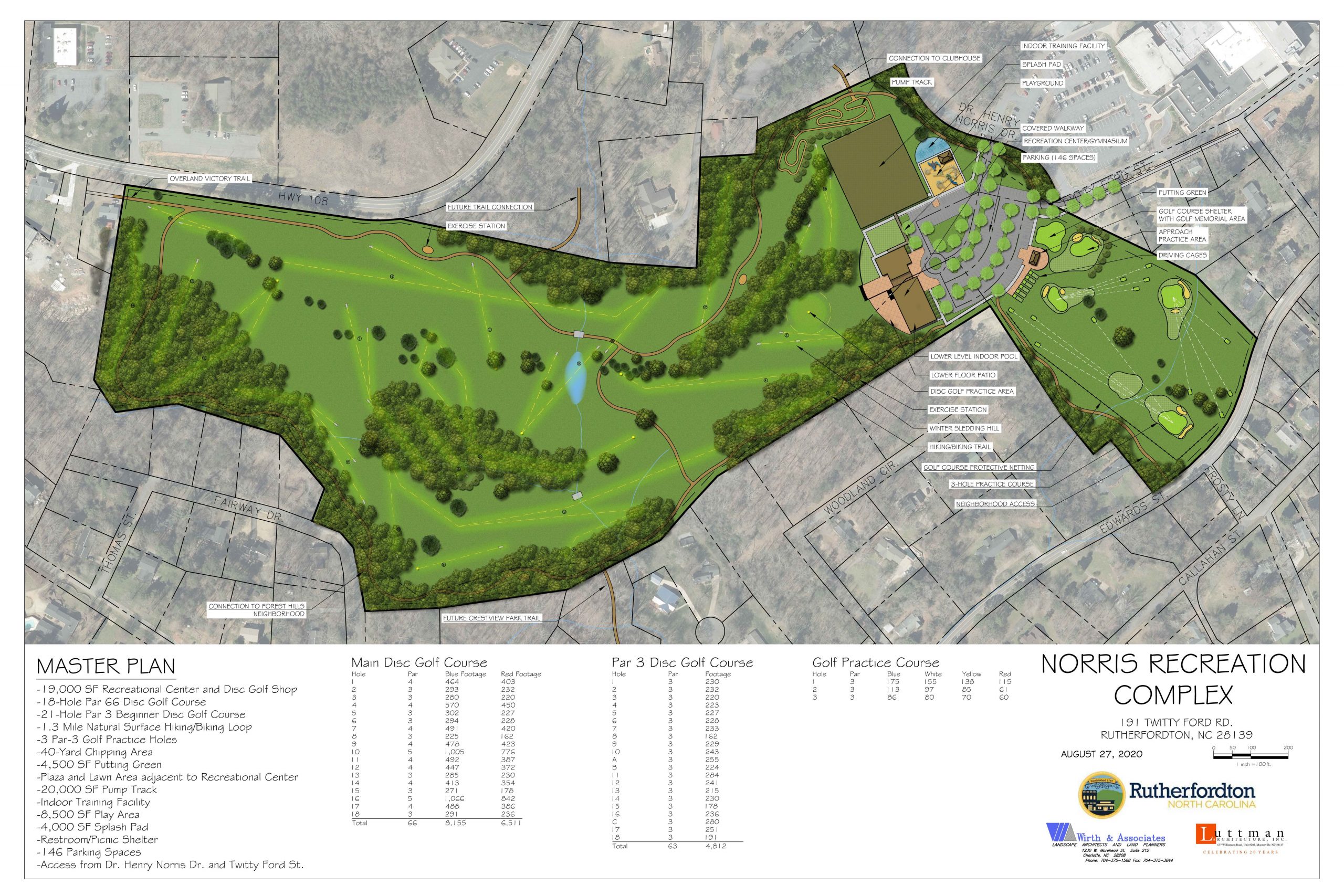 On January 28th the Norris Recreation Task Force, the Recreation Trust Fund, & Rutherfordton Recreation Committee met to discuss what the phasing plan for the complex should look like as we move into turning this vision into reality. A link to the recording of the meeting is below. Staff is working with these committees to look at the following items into a project budget and plan.
Phase 1 of the Norris Recreation Complex Amenities: 
A portion of the parking area
Disc Golf
Bathrooms with Shelter
Golf Practice Areas
Playground
Hiking/Biking Path
Grading for the Practice Facility