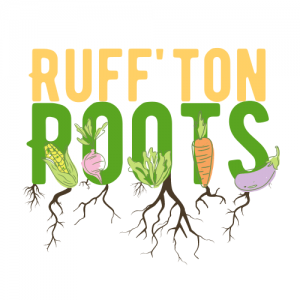 Ruff'ton Roots is a gathering of community volunteers coming together to grow quality produce for our neighbors. We grow all crops together as a team, with community service at the heart of our organization. Many hands make a light load.
The goals of our project are to unite the community under a common, generous purpose; create public space to teach and learn gardening methods; offer opportunity to be a part of shaping our town's future; foster community leadership, and to lend a hand to our citizens in need.
We join at the Ruff'ton Roots Garden to sow, plant, water, weed, mulch, dig, harvest, wash and pack vegetables we have grown. All harvests are distributed through local food pantries and soup kitchens in Rutherford County that address food and nutritional insecurities.
The community garden site is located in the field located next to St. Luke's Chapel (128 Hospital Drive), at the intersection of Hospital Drive and Edwards Street.
Call for Volunteers
We are looking for volunteers for this project! Volunteers will have the option of signing up for specific tasks and days. Tasks will include garden maintenance, harvesting & washing produce, and delivering produce to local food pantries. If you are interested in participating in this project, please join our Facebook Group or email mlong@rutherfordton.net.