Recycling & Trash Pickup
The Town of Rutherfordton launched Recycle Coach™, a mobile and web app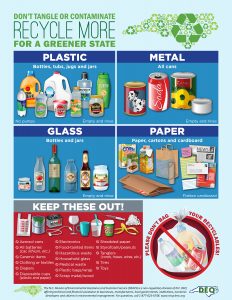 that contains trash and recycling schedules tailored to individual addresses. On the free mobile app, residents can view/export schedules and set up automatic reminders right on their smartphones.
It's important to note that the Town's collection schedules are not changing, nor can residents schedule a time for trash and recycling collection. Please have your trash or recycle can placed on the road before 7:30 am on the day of your scheduled pick up! The Recycle Coach™ app is designed to make it easier for residents to remember when to place trash and recycling on the curb for pickup.
Please note that Public Works will be closed on federally recognized holidays and will not be picking up trash, recycling, or brush.  The trash and recycling will be either rescheduled or pushed to the next working day. The schedule will be reflected in Recycle Coach™.