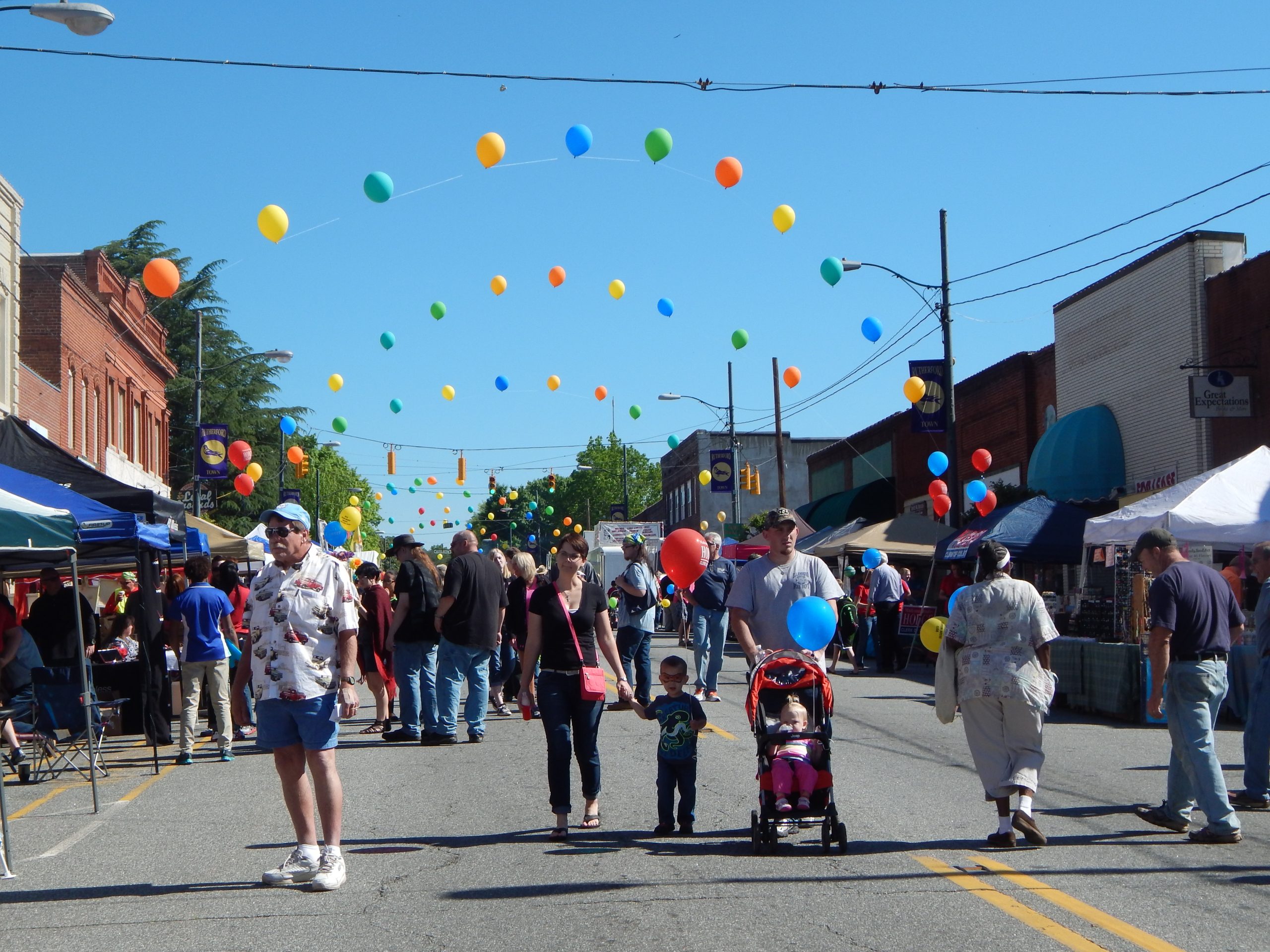 As the slight smells of spring begin to creep around the town, it might bring back some memories of kettle corn and the beloved balloons of the Annual Mayfest celebration in Rutherfordton. Mayfest was created many years ago to be a street festival filled with arts and crafts for the community, hosted by Rutherford Town Rising (RTR). Unfortunately, with the increased difficulty of planning and executing large-scale street festivals, coupled with the lack of both manpower and financial resources, RTR made the decision to no longer hold Mayfest. However, as spring blossoms this year, a smaller festival to celebrate Food, Art, and Brews, will be returning to Rutherfordton.
Mayfest was just one festival hosted by RTR in the Downtown Area. Other events hosted by RTR include Hilltop Fall Festival, the Purple Martin 7k, Trick or Treat on Main Street, Paint the Town, and others. Unfortunately, these events have taken a toll on the original mission of RTR, which is a volunteer-led and driven nonprofit organization that is committed to "developing and enriching assets which promote economic vitality, sense of community, and quality of life." RTR has impacted our community in numerous ways by supporting projects with KidSenses and Main Street Park, hosting Business Association Meetings, and aiding our downtown businesses through grants. Planning large festivals began to interrupt these more impactful projects. When considering cancelling Mayfest, the organization felt as if the time and resources of Mayfest could be reallocated to invest in our community. This decision was further confirmed after surveying local businesses and the community back in 2020.
Although Mayfest has been cancelled, opportunities to gather in Downtown Rutherfordton are actually increasing! FABFest, which is a family-friendly street festival that runs along Central Street, will be returning to Rutherfordton on the Friday of the month, starting April 1st (we promise that this is not an April Fool's joke). Celebrate the art from local artisans, musicians, regional food trucks, and brews (including coffee, tea, and drafts). This was truly a collaboration of local businesses, artists, and other area residents to provide entertainment and access to the arts while increasing the vitality of the community. We truly hope you come craft new memories at these frequent street gatherings.
The full 2022 series of dates for FABFest is due soon, so be sure to follow Food, Art, and Brew on Facebook. We would also like to take this opportunity to showcase a "call to action" for Rutherford Town Rising, which has seen an influx of opportunity with the Angel Fund, an application to HGTV Hometown Takeover, and a recent Duke Energy Hometown Revitalization Grant. RTR is looking for the next group of leaders with a passion for downtown, energy to invest in our community, and to keep the heart of Rutherfordton the gold standard of small towns. If you have a small business or passion to serve, we encourage you to join an RTR meeting on the 3rd Thursday of the month at 5:30 pm in the Woodrow Jones Building (146 North Main St) or reach out to Leeanna Torvinen, the Executive Director for RTR, at leeanna.ed.rtr@outlook.com.