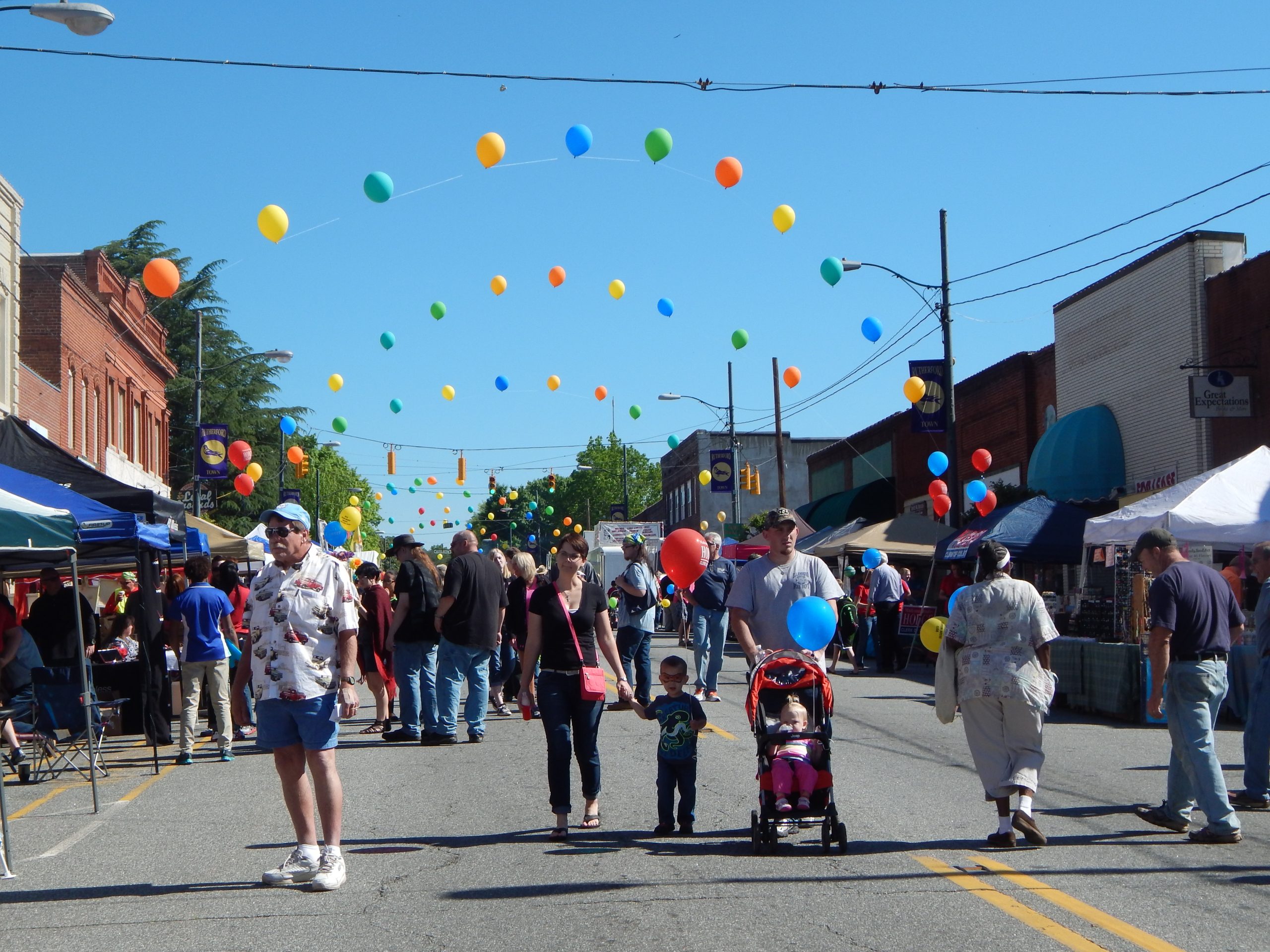 Hello my name is Rick Segal, I am the current President of RTR, Rutherford Town Rising. I have lived in Rutherfordton for a little over 5 years. I have also been an RTR board member for almost 5 years. I am engaged in the community via multiple roles and organizations like the Rutherford Garden Club, Kid Senses Gala Committee and the Town of Rutherfordton's Planning & Historical Preservation board. I have been a committed volunteer in the community since day one of my arrival to this wonderful town. I enjoy working with other community members to make Rutherfordton the best it can be for all of its citizens. I would like to take a moment to address the recent article that was published in the Rutherfordton Sun regarding Mayfest 2022.
I know that many members of the community are disappointed to learn that Mayfest has been cancelled for 2022 and beyond. The first event I ever volunteered for in the town of Rutherfordton was Mayfest 2017. I have fond memories of working as a volunteer planning and coordinating the street festival over the years. I am as sad as anyone to see it disappear off the town calendar. Please believe me that it was not an easy decision and the RTR Board did not take it lightly
This decision was made in late 2019. I would like the opportunity to explain the decision-making process behind the sun-setting of Mayfest. RTR as an organization was looking for ways to become more effective in growing and supporting the downtown corridor businesses. Our mission statement is that we are dedicated to "developing and enriching assets which promote economic vitality, sense of community, and quality of life" in the Downtown Corridor of Rutherfordton. We are also a part of the NC Main Street Program. If you are not familiar with the Main St program, please go to https://www.nccommerce.com/about-us/divisions-programs/rural-economic-development/nc-main-street-rural-planning-center and check it out.
Through a grant provided by NC Department of Commerce, RTR hired Greenberg Development Services to help us develop a growth strategy for Downtown Rutherfordton and create a comprehensive report. Relevant to this discussion was a recommendation to pivot to more frequent monthly events. Ongoing monthly events have shown to be more productive in building lasting and sustained business traffic in downtown areas similar to Rutherfordton vs a larger once a year festival.
Prior to 2019 the logistical management of Mayfest was outsourced to a vendor. We did this because we did not have enough RTR volunteers to plan and execute a successful festival. The firm that handled this for us was dissolved in 2019. RTR was faced with the decision of hiring another vendor or running the festival on its own.
Several considerations went into the decision-making process.
Was there another vendor who could replace the outgoing one and what was the cost of hiring them to manage the festival?
Did RTR have the Volunteer network to replace the vendor and continue the festival if a suitable vendor could not be found?
Was the festival financially viable? Did RTR make money from Mayfest or at least break even?
Did Mayfest as an event align with the stated goals and mission statement of RTR as an organization in 2019 and beyond. Were we still the right group to sponsor and run the festival?
When RTR lost its vendor for Mayfest logistics there was not another local vendor who could take on the project. RTR is a small organization with only one part-time employee, an Executive Director. The remainder of the Board and its Members are volunteers. We explored how our roughly 10-member board, most of whom have full time jobs, could handle the logistics. It was clear without a vendor or a major shift in focus of the Executive Director, Mayfest would be difficult to pull off.
RTR did not make money from Mayfest. With support from the Town of Rutherfordton, vendor fees, and sponsors, the festival broke even most years.
Based on our stated mission, we wanted to be an organization focused on creating and fostering economic vitality in the downtown corridor of Rutherfordton. In 2019 RTR did a survey with the downtown merchants about the long term and sustained impacts of the festivals like Mayfest. The responses showed that Mayfest and Hilltop gave a boost to downtown business but that boost was not sustaining. Additionally, the majority of the vendors attending Mayfest were not local businesses.
Based on this information, the board questioned if festivals like Mayfest were the best uses of our resources. In the end the decision of the board said no.
In 2019, the greater trend coming out of the NC Main Street and the National Main Street program was advocating smaller format, more regular events vs large once a year street festival for towns of our size. Their research was showing us the same results that our small survey was showing. The lasting economic effect for the downtown created by festivals like Mayfest simply were not there. This also aligned with the feedback RTR and the Town of Rutherfordton had received from Greenberg Development Services.
After taking all of this into consideration the RTR Board voted to cancel Mayfest and shift the resources to smaller scale events that would happen on a monthly or quarterly basis. We shifted our focus to events like FABfest. Our goal was to free up volunteer resources and resources from the town to create sustained traffic and business downtown. Unfortunately, COVID-19 has slowed some of that grow but FABfest, Movies in the Park and other events sponsored by RTR and the Town are coming back in 2022.
Additionally, RTR has distributed over $35,000 in grants directly to small businesses in the Downtown with funds raised from the 2020 COVID-19 Angel Fund Campaign and the 2021 Duke Energy Grant program. By focusing our efforts on direct support to local business were able to help over 20 downtown business thrive during the pandemic.
This is how we came to the decision we made. I know it is disappointing. We knew it would be for many people in the community but I still believe we made the right decision to focus on our mission.
The last thing I want to do in this letter is challenge the people of Rutherfordton to get involved. You can be the agent of change and the advocate for the things in this community you care about.
I challenge you to find your passion. If you are interested in revitalization, preservation and economic vitality in the downtown, RTR might be the place for you. If you love animals and want to help, volunteer at Heart of the Foothills Animal Shelter. Do you love to Garden? Get in contact with the Ruff'ton Roots Community Garden and work to feed the hungry in our town and our county.
If you want to make a difference in your community, and, have a voice in making it better for everyone who lives here, please get involved. Volunteer organizations are working hard to make changes and improve communities like ours. If there were 50 people who wanted to volunteer and manage the large festivals like Mayfest I am sure the town would consider helping bring it back.
Finally, I will echo what was published in the Rutherford Sun. RTR is looking for citizens with a passion for downtown and the energy to invest in our community. We need more active members to work to make downtown the gold standard for small towns in NC. Please consider joining us and making a difference.
Sincerely,
Rick Segal
RTR President 2022