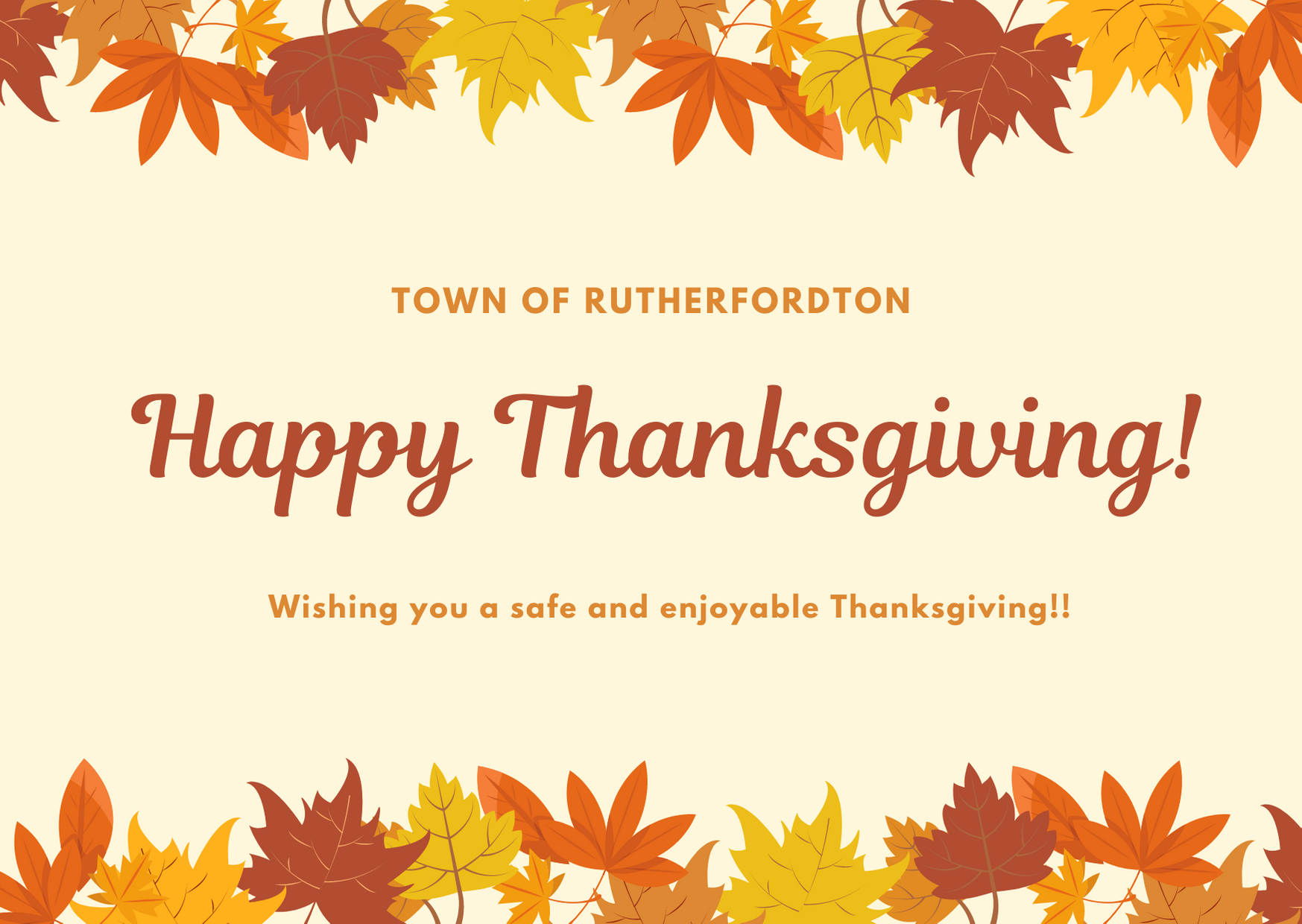 Happy Thanksgiving!
As we finally approach Thanksgiving, the Town of Rutherfordton wanted to spread a heartfelt message of gratitude to all of its citizens (and those nearby). 2020 has been an incredibly rough year as we have had to deal with many unforeseen circumstances. This Thanksgiving serves us time and the opportunity to slow down and reflect on what we are truly grateful and thankful for, despite anything that has happened this year.
We, as the Town, are so thankful for all of our citizens. While this year's celebrations looked differently as we've done them in the past, our citizen's made them memorable. We are also grateful that we met a major goal of connecting Crestview Park and Kiwanis Park together by the Purple Martin Greenway! This has been a 5 year-long project, and we finally got it finished.
However you celebrate, virtually or in small gatherings, please enjoy Thanksgiving this year. With the dramatic rise of COVID-19 cases in our county over the last few days, we just ask for you to look over these CDC Guidelines for Thanksgiving Celebrations. Zoom will be lifting the 40-minute limit for all meetings globally from midnight ET on Nov. 26 through 6 a.m. ET on Nov. 27 so your family gatherings don't get cut short. If you are planning on attending a virtual Thanksgiving celebration, check out this page for Rutherfordton-related Zoom virtual backgrounds!
Town Updates for Thanksgiving:
All Recycling will be picked up on Wednesday 11/25, so please have your recycling can at the road by 7:30 am
Town Buildings will be closed Thursday and Friday
General Reminders:
In case of an emergency, please call 911 and not the individual department
Watch this video about Kitchen Safety Tips from the Fire Department
Black Friday FAB Fest is happening!! 11/27 at 6 pm **This event will be COVID-friendly & socially distanced. Please bring a mask!*