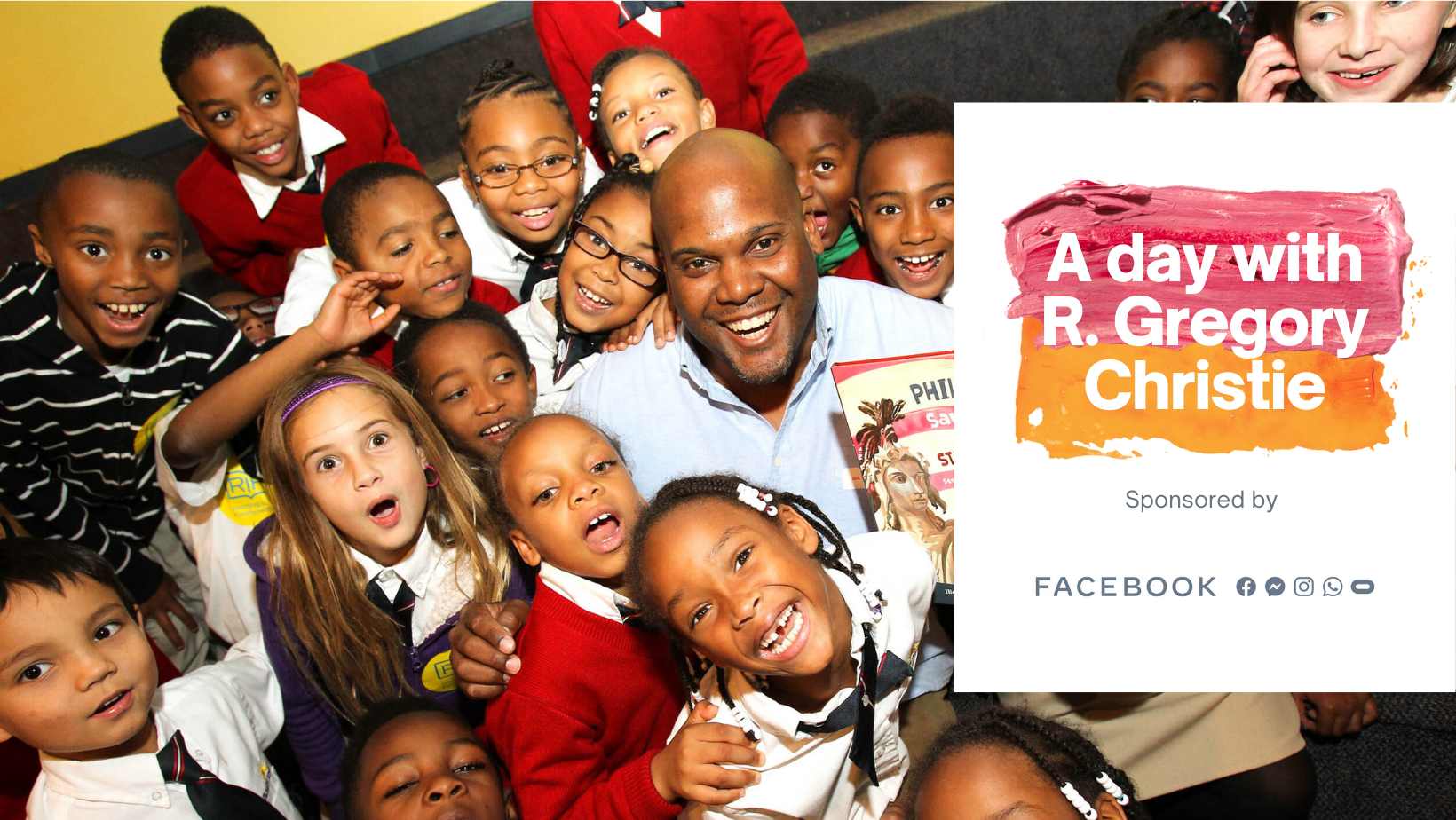 Donation from Meta supports the events and book donations to local school
RUTHERFORDTON, N.C. – Thanks to a generous donation from Meta, formerly the Facebook company, to the Norris Public Library Foundation, local kids and families will have the opportunity to create their own works of art with award-winning illustrator R. Gregory Christie in a series of workshops next week.
The events kick off Friday, November 12th and run through the morning of Saturday, November 13th. Mr. Christie will lead four hands-on, arts-based workshops, developed especially for students, teens, and families:
Judged by the Cover: The fourth-grade students of Rutherfordton Elementary School will learn about creativity, visual storytelling, and character development in a step-by-step design and illustration class, and will create their own book cover.
Identify Yourself! Workshop for Teens: In this program, Mr. Christie will share his journey as an artist and entrepreneur, while guiding teens in an art project designed to help them find and express their identity.
Family Bookbinding: A family-friendly bookbinding class that also incorporates visual storytelling and interesting facts about books! Participants will learn the terms, tools, and basic skills in the craft of bookbinding, using their creativity to design a set of simple books they can decorate and take home. This program will be offered twice: Friday, November 12th and Saturday, November 13th.
Mr. Christie is an award-winning children's book illustrator and lecturer with a long track record of creating inspiring art. His animated films have been showcased on Netflix and HBO Kids and he has illustrated more than 60 books for young readers that are available in local schools and libraries. He is an NAACP Image Award winner and was the artist for the United Postal Service's "Kwanzaa Stamp" in 2013. Christie's lectures on art, diversity and literature are family friendly. His educational programs are fun and engaging, allowing audiences to find a love for books. He has been a guest speaker at conferences and libraries and teaches after school art programs all over the country.
"At Meta, we believe in building community and bringing the world closer together," said Tara Tenorio, Community Development Regional Manager for Meta. "That's why we're proud to be able to bring the incredibly talented globally-recognized author and illustrator Mr. Christie to Norris Public Library so our people and families in our community can come together to personally experience and learn from his impactful work."
Rutherfordton and the Forest City community have been home to Meta and its team since breaking ground on the Forest City Data Center in 2010. Meta's Forest City Data Center supports its apps and products including Facebook, WhatsApp, Instagram and Oculus. Meta's donation will provide opportunities for students and families to learn about the history and people of other races and cultures, and to enhance the diversity of books in schools and public libraries. The donation will also fund the purchase of new books for Rutherfordton Elementary School's media center. Every student, teen, and family that participates in one of next week's workshops will take home a new book written or illustrated by Mr. Christie. Students and teens will also take home a free "Beginner Illustrator" art kit.
"We are thrilled to be able to offer this opportunity to local families. Libraries like ours are perfectly positioned to offer enriching programs that allow people from different walks of life to share their stories. We believe workshops like Mr. Christie's have the power to bring communities together, and we are incredibly grateful for the support from Meta, without which these programs would not be possible," says Sarah Ross, the Norris Public Library Director.
To register for the Teen and Family workshops, visit www.norrispubliclibrary.org/christie-workshops
For more information on R. Gregory Christie, visit his website: https://www.rgregorychristie.com/