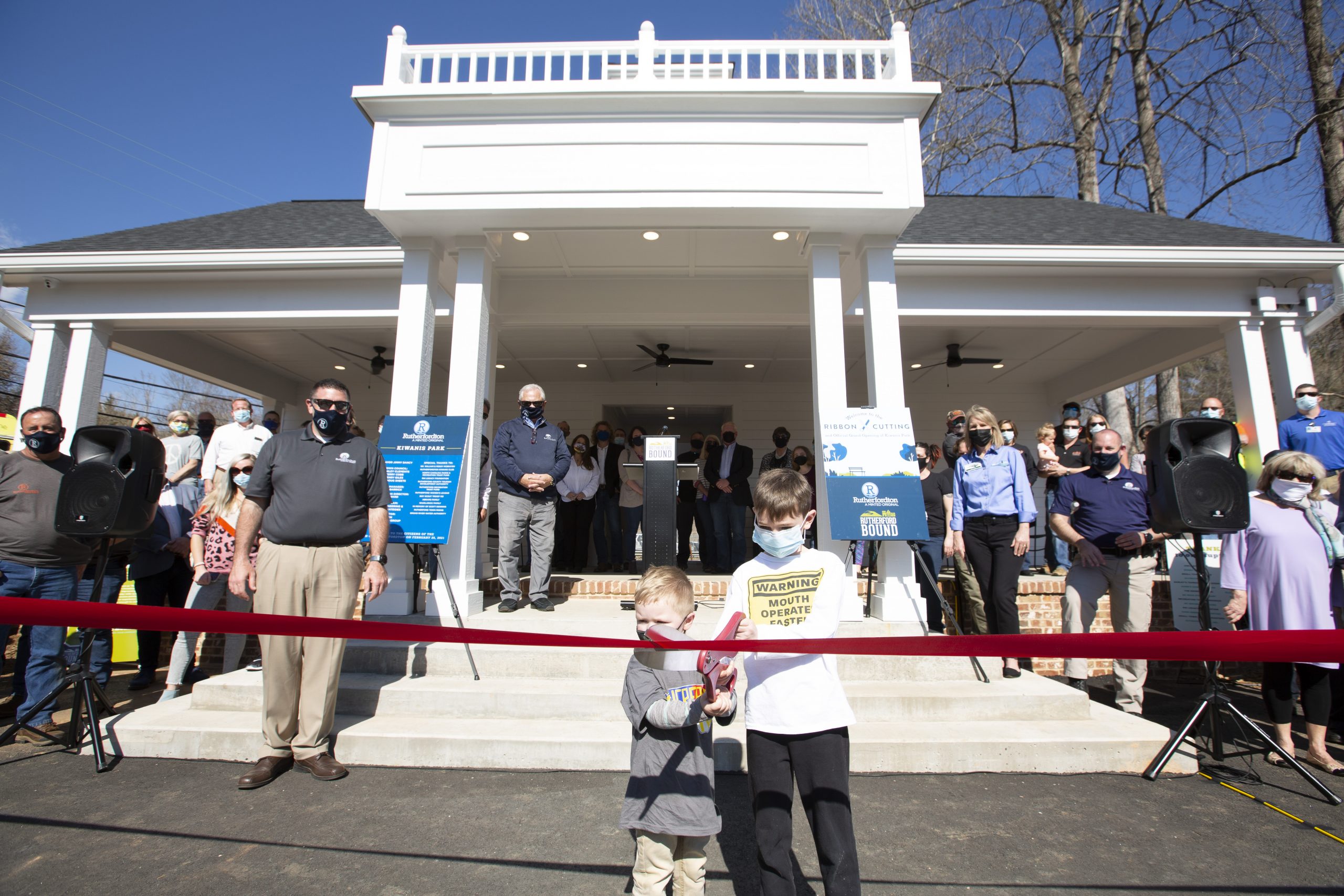 The newly-constructed Kiwanis Park in Rutherfordton gives residents and visitors a family-friendly
recreation space that includes a customized, state-of-the-art adventure playground, walking paths,
a dog park, and more.

Feb. 25, 2021 – RUTHERFORDTON, N.C. – Today, the town of Rutherfordton celebrated the opening of the newly-constructed Kiwanis Park on 5.7 acres of open space in the heart of Downtown. This project has been a long-term collaborative effort involving local and county leadership, generous support and input from Rutherfordton residents, and from the local chapter of the Kiwanis Club, who purchased the property over 20 years ago.
A true community effort- from packed rooms of interested stakeholders, to local donors- the community lent their voice to help create the original vision for the park, which is why local leaders invited others from across the state to commemorate this great community accomplishment.
You are the reason that we had success with this," said Rutherfordton Mayor Jimmy Dancy , expressing gratitude to the many local leaders, donors, and residents who collaborated to bring about the expansive project. "Take pride in what you see around you. You had a part in making this possible."
At its Grand Opening, Kiwanis Park will feature green space, walking paths, a covered pavilion, other seating areas, a soon-to-be-finished dog park, and a 10,000 sqft adventure playground that town manager Doug Barrick describes as "the kind of treehouse you always wanted as a kid." The playground includes a two-story tower with climbing walls for multiple skill levels, a 12 ft tube slide, as well as monkey bars, tire swings, balance beams, an embankment slide, and tree stump hops.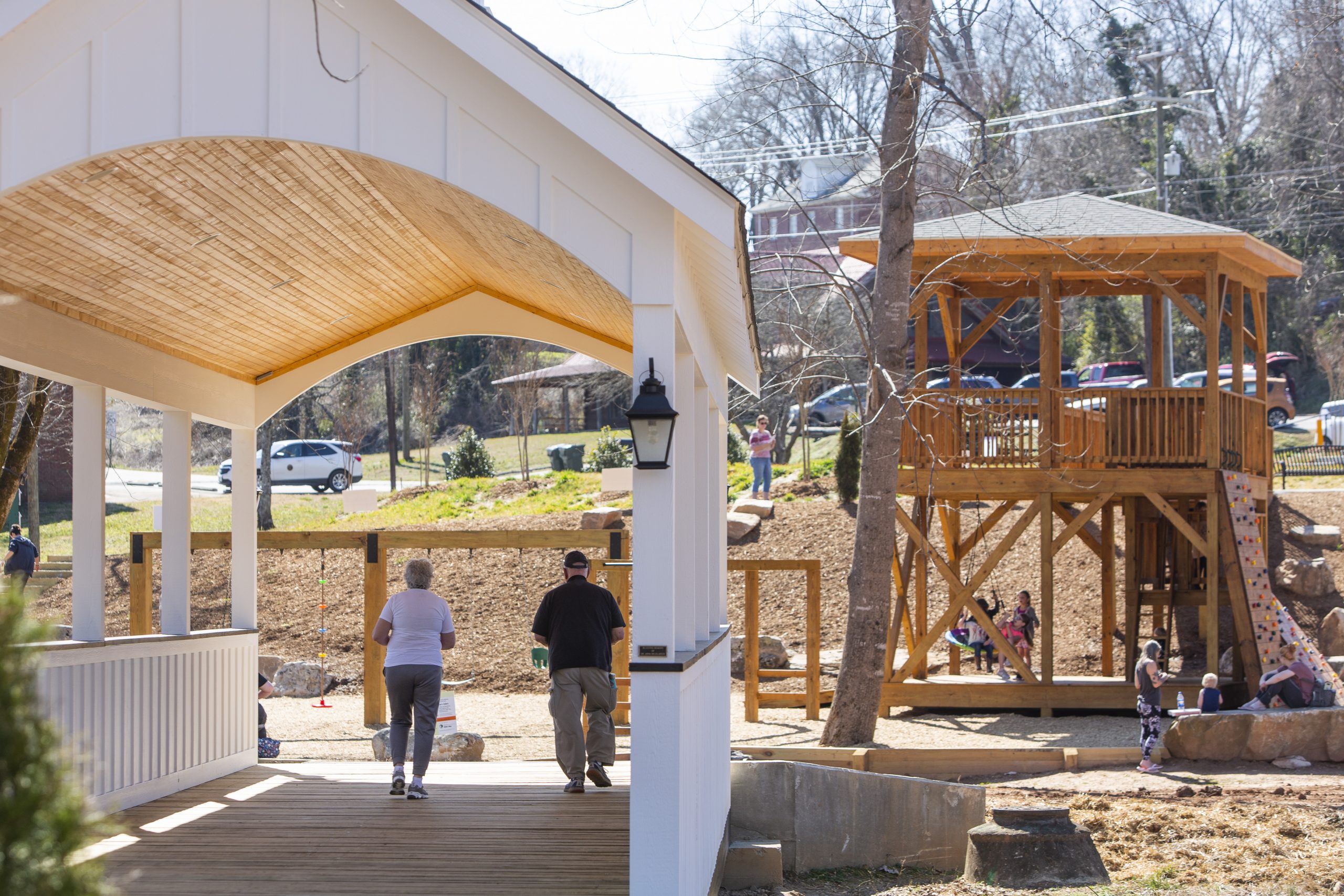 Additionally, the park connects with the 3-mile Purple Martin Greenway to provide pedestrian and bicycle connectivity to Main Street.
"Kiwanis Park effectively completes the original vision for the Purple Martin Greenway by connecting the Crestview Park in the Southern part of Town to Kiwanis Park on the North Side of Town," Barrick says.
With nearly 75 percent of Rutherfordton residents living within half a mile of the Purple Martin Greenway, the Kiwanis Park project will serve to connect residents and businesses like never before by encouraging trail users to visit the many small businesses located on Main Street. And local leaders are hoping for a real economic impact.
But all of this, marked by the Grand Opening today, is only Phase One for the park, which required $879,000 to build. Indicative of the overwhelming community excitement for the project, at least $46,230 originated as local support, with the remaining funds coming through a combination of statewide grants, the Town of Rutherfordton, Rutherford County, as well as several community organizations and foundations. Scheduled to be finished in April, a state-of-the-art dog park and shelter is specifically being made possible by generous funding from the local Abrams family in honor of their son Marshall.
Requiring an additional $121,000, phase two of the project is planned to include a large gazebo, additional parking, and restrooms, the fundraising for which is now underway.
"What creates a community is the unity between each other. It's the strength of our relationships,"Barrick said, honoring the generosity of numerous donors. "Today we're celebrating the success of this community and how we move forward together as a town."
Dan Hegeman, a long-time member and past president of the Rutherfordton Kiwanis Club said the Kiwanis Park is the culmination of many years of planning and dreaming.
"This is the result of 25 years of efforts beginning in 1994," Hegeman said, emphasizing the organization's commitment to strengthening the lives and futures of children. "In three more years Rutherfordton Kiwanis will celebrate 100 years as a club in this community. We're at a historical crossroads, and every life has crossroads. We want to meet children at the crossroads of their lives and help guide them."
The original Kiwanis Park Master Plan was developed by the consulting firm Destination by Design with extensive input coming from local leaders and business owners. Knight Strategies & Odom Engineering are responsible for the final design and construction of the park.
This project is another significant piece of the broader, countywide vision of "Rutherford Bound", an initiative led by the Rutherford County Tourism Development Authority (RCTDA) and other local leaders to revitalize and enhance quality-of-life infrastructure across all of Rutherford County through streetscape enhancements, improved parks and pedestrian areas, and a system of greenways, trails, and river access points.
"Kiwanis Park is what Rutherford Bound is all about," says Don Cason, the RCTDA Executive Director, "when we create a better place to live, work, and play, we create a better place to visit."
Opportunities for Giving
Individuals and organizations interested in supporting the ongoing work at Kiwanis Park or any other Rutherford Bound projects are encouraged to learn more and provide tax-deductible donations at RutherfordBound.com.