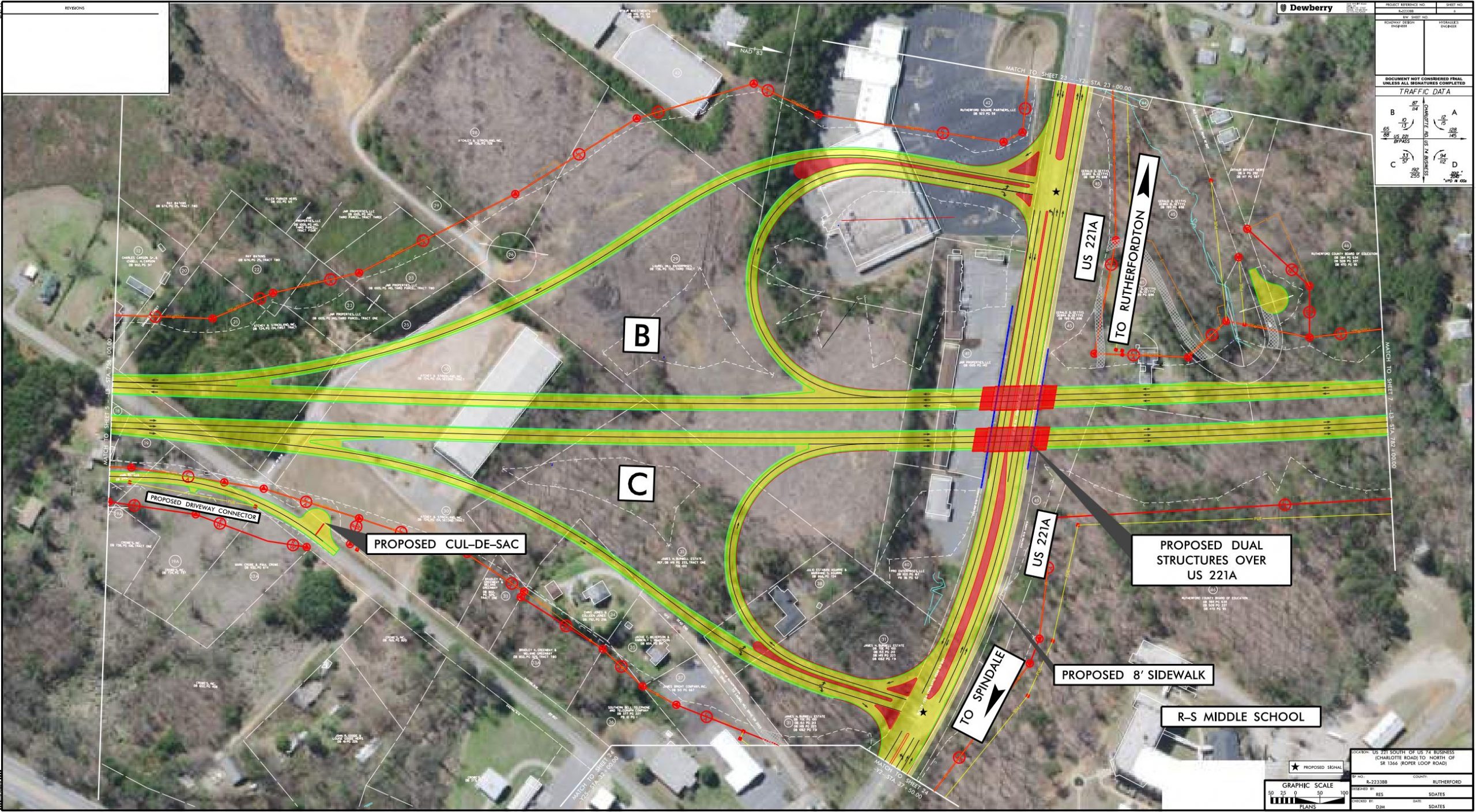 It about to get even easier to Maps yourself into Ruff'ton!
After years- well more like decades- of planning, the much anticipated Hwy 221-Bypass project around Rutherfordton is about to begin. In a few short weeks, NCDOT will move forward with Wright Brothers Construction on a project that will bring transformative changes to our community. This new roadway will eventually be 8 miles long beginning on the North end at Roper Loop Rd and ending at US 74. The Hwy 221-Bypass will be a 4 lane divided highway with a "super street" design, as found on the lower section of US 221 near Harris Elementary, and grade-separated controlled access (interstate style) as the project weaves through the heart of Rutherfordton. New exits will be created at Hwy 64 and Charlotte Rd with new super street access points for other high-volume roadways. The project is broken down into 2 phases: the first, Project R-2233BB, which will begin construction this year begins at Roper Loop Rd and travels 3.5 miles south to just past Charlotte Rd; and the second, Project R-2233BA, will pick up just below Charlotte Rd and continue to US 74 a total of 4.5 miles for a total of 8 miles.
The overall project is part of a larger strategic corridor vision to connect I-85 and I-40, as well as to make provisions for access to US 74. This corridor opens up a vital link to the I-85 corridor, the Inland Port of Greer, as well as the I-40 link to Eastern NC, ultimately increasing the flow of goods through our community and making strides in economic development. Moreover, this new roadway will change local and regional traffic flows allowing a safer and more efficient flow of traffic around US 64, US 221, US 74, ALT US 74, and College Ave. These routes are already seeing high traffic loads and this project aims to relieve these roadways. The new road will also remove heavy volumes of through traffic from the core of downtown allowing for enhanced pedestrian improvements and the reconfiguration of Main Street in Rutherfordton.
The Town has been planning for these improvements for some time now, which is reflected in the new Rutherfordton Town Plan 2040 and our newly adopted Unified Development Ordinance. The associated future land use maps and growth opportunity zones around Charlotte Rd and Mountain St. will most certainly see increased development pressure due to the new roadway. The Town is also actively planning for increased business and economic growth in the Charlotte Rd area with Phase II of the Rutherfordton Business Park. Recently, the Town was awarded a $300,000 ARC grant to improve and extend Executive Drive into the Business Park. The new roadway opens up 100 plus acres of land suited for new job creation and industry directly adjacent to the new Hwy 221-bypass.
The Town has been actively working with NCDOT as the planning of the new highway has moved ahead. The Town has pushed for wider sidewalks on both Green St and Charlotte Rd, enhanced sewer service in areas along the roadway in anticipation of development pressure, installation of noise walls in residential areas, enhanced designs of the bridges on Charlotte Rd, provisions to connect the Purple Martin Greenway to the Thermal Belt Rail Trail, and more. Concurrently, we have been actively working with NCDOT on enhancements various roads and intersections along Charlotte Rd, the intersection of Mountain St and Chimney Rock Rd, and the intersection of N. Washington and Maple Street.
As construction begins, the Town will continue to play an active role in ensuring that this project provides for the best of Rutherfordton's future. Discussions have already begun on signage, landscaping, and other topics to ensure that this new roadway plays an integral role in the future of Rutherfordton. The Town will be hosting the initial preconstruction meeting and will have more information on timing, roadway impacts, and more in the coming weeks. We are delighted to see this new roadway project begin as this bypass brings a new era in the history of Rutherfordton. A time for new opportunities, new businesses, new traffic patterns, improvements to safety, walkability, connectivity, and ways to reimage our community. As this era begins and this new corridor develops, our collective vision to keep a small-town feel are the key components of the recently adopted Town Plan 2040 that highlights ways to balance these opportunities with keeping our small-town charm and family-friendly culture that we all love!