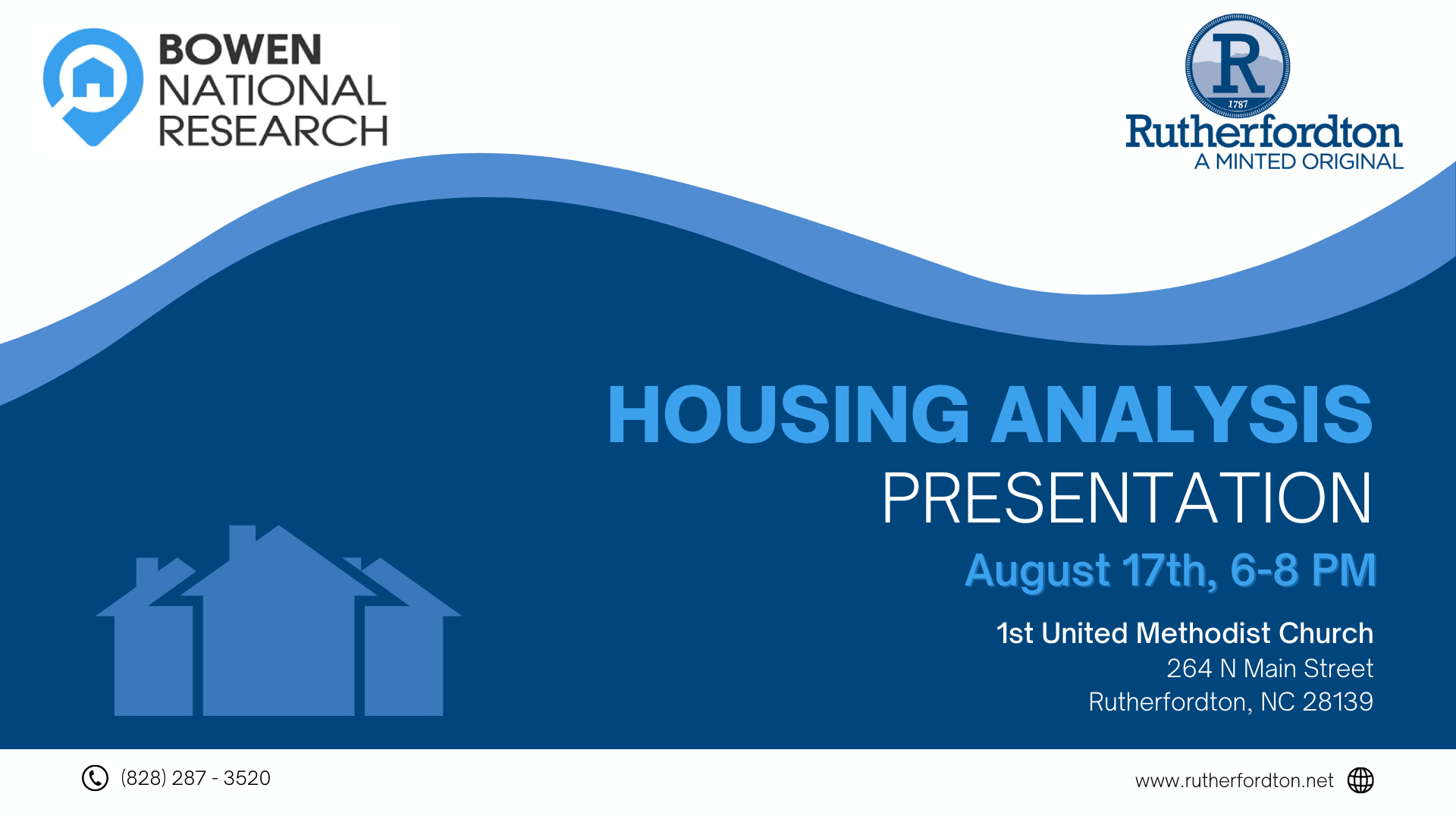 RUTHERFORDTON, N.C. — Please join the Town of Rutherfordton, Town Council, Redevelopment Commission, and Planning Board at the Housing Analysis Presentation on August 17th from 6-8pm at the First United Methodist Church at 264 N. Main Street, Rutherfordton. This presentation will be in the Family & Life building and an option for free childcare will be available.
In the Town's commitment to creating solutions for housing issues that impact our community, the Town Council voted to form a Redevelopment Commission in October 2021. This group is made up of community members that all have a passion for housing and making Rutherfordton a better place to live. This commission is tasked with creating a plan to improve the quality, quantity, and affordability of the housing stock in Rutherfordton. After their formation, the Redevelopment Commission held community meetings in various neighborhoods within Rutherfordton to identify an initial working area and begin crafting a comprehensive housing plan.
In order to craft a comprehensive housing plan, an analysis that examines the current housing conditions and identifies potentials strategies to remedy housing issues is needed. The Town of Rutherfordton contracted with Bowen National Research in April of 2022 to conduct this micro-level analysis. Bowen National Research is a renown expert in housing and market analysis, and has conducted a similar housing analysis for the Dogwood Trust, which examined housing challenges within the Dogwood Footprint in Western North Carolina.  The analysis identifies housing needs, consolidates community input, and provides recommendations that will help the Town and community in accomplishing housing goals.
"We urge the community, Town Leaders, and other Stakeholders to join us in attending the Housing Analysis Presentation to learn more about the specific housing needs in Rutherfordton and learn ways in which housing goals can be met. As housing is a complex challenge, the Town is not going to be able to fix every issue alone. This presentation is an opportunity for our community, churches, nonprofits, and other organizations to come together and learn about how we can make Rutherfordton a better place to live, " says Magnolia Long, Community Development Director for the Town of Rutherfordton.