At the beginning of September 2020, the Town of Rutherfordton received a Public Design Assistance opportunity through the UNCG School of Design. The North Carolina Main Street & Rural Planning Center in partnership with UNCG Main Street Fellows created a new service with the intent to offer assistance during the Pandemic to assist designated Main Street and Small Town Main Street programs with designing or redesigning public spaces for more flexible use such as sidewalks and alleyways for dining or how to incorporate safe practices such as hand sanitizing stations throughout downtown with respect to the Americans with Disability Act of 1990.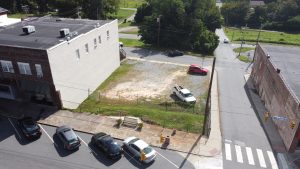 An open space like 220 N Main Street, or "The Hole", was perfect to submit. We hoped that the UNCG School of Design could help us transform that space that would not only be COVID-friendly, but a space that could be diversely utilized. Maybe an existing business could set up an outdoor pop-up shop one day, or a local artisan could sell their new art, or maybe we could have an outdoor concerts with food trucks. The possibilities were endless.
After many meetings, the UNCG School of Design presented the packet below. The design features a covered patio, that would be equipped with a fan and speakers, a lawn with plenty of tables, and a space for food trucks. This concept was also presented to Town Council at the December meeting and was approved. The Town can begin moving forward in transforming this concept into reality!
Check out this news story for the Whole!
Project Updates
Town Council approved "The Whole" Concept at the December Council meeting on December 2nd, 2020.